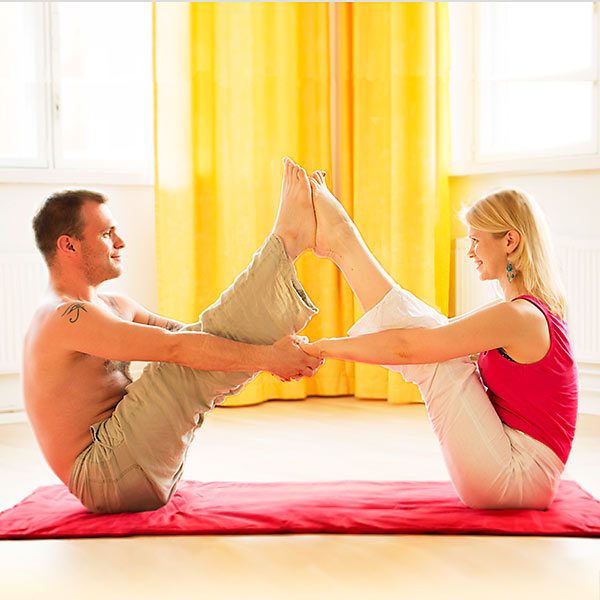 Suitable for everybody
In Intensive Tantra you have two hours of practise and theory every week. At the course the practice is performed individually and it is not of erotic character. The course starts with traditional yogic postures (asanas), which are taught from a tantric perspective. There is no requirement for prior knowledge or experience.
Intensive contents - extensive effects
Intensive Tantra is a systematic and profound program that reveals, one at a time, the mysteries of Tantra. Your tantra group will keep together from year to year, learning new practices and tantric principles every week. By incorpotating the teachings of the course into your practice, you can achieve harmony and health in the body, mind and at the level of emotions. Tantra can help you to awaken hidden resources to make your dreams come true. When applied practically, Tantra can increase happiness and the ability to love. It can deepen your sexual experiences and contribute to the fulfillment of your life.

Intensive Tantra is an invitation to all people to say YES to life!

Courses for beginners will be given on Tuesdays at 18.00-20.00, starting on September 6th.
Preparations for the course
You need to wear comfortable, loose clothes
Avoid eating heavy food two to three hours before the start of the yoga course
You don't need to bring your own yoga mat, we will lend you a cotton mat
Our facility includes pleasant dressing rooms, separate for men and women
There are four halls for teaching
Before the course you can can relax in the library or get acquainted with the offerings of our yoga shop, Sundari
The course fee includes
Textual course material
The right to participate in all teaching given at the same level as that of your group, or at a lower level
Free entrance to the Hatha Yoga theme sessions (5 different themes/week)
Methods of payment:Finnish Internet banks or cash payment before the lecture (select registration)
| Course fees | 1 month | 3 months |
| --- | --- | --- |
| Standard fee | 64 € | 159 € |
| Student / unemployed | 55 € | 127 € |
| Under 21 years | 32 € | 78 € |
Read more about Intensive Tantra
Laaja tantrakurssi Helsingissä alkaa syyskuussa 2018 ja se on avoinna uusille koko syksyn.
Tunnit ovat keskiviikkoisin klo 18:00-20:30 alkaen 12.9.

Uusi kurssi alkaa myöhemmin ilmoitettavana ajankohtana (ei vielä syksyllä 2018).